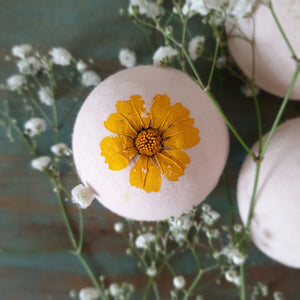 Ingredients: sodium bicarbonate, citric acid, corn starch, organic shea butter, organic coconut butter, french pink clay, 100% grapefruit and ylang-ylang essential oils, picked dried flower & a hidden message inside.
This bath bomb is everything what you wish for. Grapefruit essential oil is citrusy but yet is sweet and with the deep, rich, floral scent of ylang-ylang is an irresistible combination. This bath bomb will balance your mood, decrease blood pressure, relieve stress and also good for your memory and thinking skills.
The unrefined, organic shea butter contains vitamins A, E, K and F. Soothing of wrinkles, chapped skin, razor bumps or other skin irritations it also has anti-inflammatory and healing properties. Shea butter is simply the best.
Organic coconut butter is great for moisturising and protecting the skin. It is suitable for all skin types but is especially beneficial for dry, flaky skin and conditions such as eczema, dermatitis and psoriasis.
HandMade by Secret Bath Bombs